Next episode to be released on May 5th, 2014.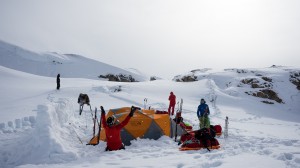 Carnets de voyage (sorry, only in french) :
Attention, il s'agit là uniquement de notes quotidiennes prises au cours de mon périple. Il n'y a rien de réfléchi, comme c'est écrit sur l'instant, donc à prendre avec des pincettes. C'est là uniquement pour les plus curieux qui ne sauraient se contenter des photos.
Mardi 8 Avril 2014 :
Des températures positives. De la poudreuse tout autour de nous. Une friction maximale, un taux de glisse quasi nul … et pourtant je me suis régalé à longueur de journée… car enfin il fait soleil !
Pour la première fois depuis le début du voyage, au point que l'on ne s'était pas rendu compte comment cet endroit pouvait être magnifique. Je n'ai cessé d'admirer la vue. Photos et vidéos par dizaines.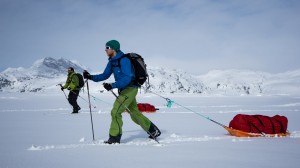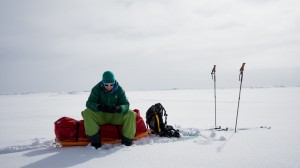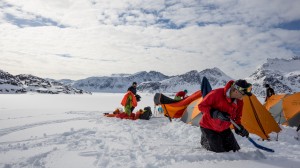 On n'oublie évidemment pas dans ces conditions l'apéritif dehors ce soir avec toute l'équipe. Cela deviendrait presque une habitude, mais avec le coucher de soleil sur la montagne, on se devait d'ouvrir une nouvelle bouteille de rouge. Surtout quand c'est offert par l'ami argentin Mariano. Que le département de prévention de l'alcoolisme se rassure, notre stock est désormais épuisé. Heureusement que nous ne sommes qu'à trois jours du village !
Un ciel dégagé et des températures en baisse étant de bonnes augures pour demain ; nous n'avons rien de plus à demander.