Finally gone to travel around the world. As much as I can I will keep this blog updated with pictures and my travel notes (sorry only in french). As the pictures only tell a tiny part of what's going on here, at least you'll have more details if you're curious.
Nevertheless, as I've chosen to travel mainly to remote areas, it may take a few weeks between each updates…
Thanks mum' for having been there until the last minute, and thanks all of you for your support regarding my trip!
Finalement parti pour voyager autour du monde. Autant que possible, je tiendrai ce blog à jour avec mes photos et notes de voyage (désolé, uniquement en français). Comme les photos ne racontent qu'une infime partie de ce qui se passe ici, au moins vous aurez plus de details si vous êtes curieux.
Neanmoins, comme j'ai choisi de voyager principalement dans des endroits reculés, cela peut prendre quelques semaines entre chaque mise a jour…
Merci môman pour avoir été là jusqu'à la dernière minute, et merci à tous pour votre soutien vis à vis de ce voyage !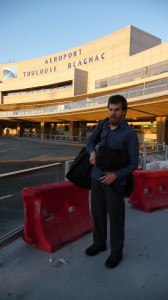 Carnets de voyage (sorry, only in french) :
Attention, il s'agit la uniquement de notes quotidiennes prises au cours de mon periple. Il n'y a rien de reflechi, comme c'est ecrit sur l'instant, donc a prendre avec des pincettes. C'est la uniquement pour les plus curieux qui ne sauraient se contenter des photos.

Lundi 19 Juillet 2010 : Départ chaotique. Pas dormi de la nuit a essayer de tout finir, et loin d'être prêt. Pas la meilleure chose le coup du réseau & changement de serveur la veille du départ… Finalement en route pour le Danemark, d'une manière ou d'une autre, tant pis pour le reste ; il est temps d'essayer de penser au voyage.